Worldwork 2017 Greece
April 23 – 28, 2017
Porto Heli, Greece
Worldwork 2017 Greece, which took place in Porto Heli Greece, from April 23-28, 2017 was a time of deep and meaningful encounters with one another and ourselves, for those of us who participated in this experiential training seminar.
536 people from 50 countries gathered in Porto Heli, Peloponesse, Greece, and worked on social, economic, environmental and political issues, using group process, inner work and relationship skills.
The program included large group work, work in small groups to practice training exercises and process group issues in a more intimate environment, and individual work. It also included a variety of morning, after lunch and evening activities. For details see below the program section.
Welcome Video for the Opening Session
Video created by Nopi Kechaoglou and Anni Vassiliou
Song: "Welcoming" (Kalosorisma), sung by Katerina Xenariou
Participant's Journal from Group Processes
Graphic Novel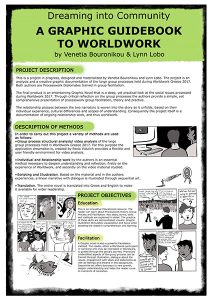 The project is an analysis and creative graphic documentation of the large group processes held during Worldwork Greece 2017. The final product is an entertaining Graphic Novel that is a deep, yet practical look at the social issues processed during Worldwork 2017. Through critical reflection on the group processes, the authors provide a simple yet comprehensive presentation of Processwork group facilitation, theory and practice.
Designers and authors: Venetia Bouronikou, Greece and Lynn Lobo, Australia
Update 2021: The book has been published! Read the first chapter here.
Research
Members of the International Association of Process Oriented Psychology (IAPOP) Research Team put together two research projects, which were conducted during Worldwork 2017:
Facilitating Individual Inclusion in Large Group Activities and Conflict Resolution Situations
Field Effects in Group Process
Inspired by the theme of Worldwork 2017, the first project focused on exploring and understanding the skills needed to promote an experience of inclusion for individuals within the context of global cohesion and socio-political development.
The research team will link mainstream research and ideas about inclusion with the findings of this study in order to promote measures helpful in supporting inclusion in 'a world of divides'.
The second project was designed to ascertain whether Process Work methods produce a structuring or coherent effect on the quantum dreaming field. This was a rollout of a pilot study done in 2016, which focussed on the connection between quantum field structuring, Process Work interventions and subjective participant perceptions during group processes.
Both research projects are currently in progress.
IAPOP Research Team during Worldwork 2017 Greece:
Alan Richardson, Australia; Anat Lerner, Israel; Freema Elbaz-Luwisch, Israel; Kirsten Wassermann, Germany; Louise Warner, United Kingdom; Helene Ramos, United States, Lily Vassiliou, Greece.
We thank Peter Amman, Nadir Noori, Nancy Papathanasiou, Boris Sopko, and Kiro Zabinska-Maclntyre for the photos!
The Call of the Greek Organizing Team
DEEP DEMOCRACY IN A WORLD OF DIVIDE
Shifting Consciousness in Politics, Economics, Ecology and Relationships.

April 2016
With tensions escalating worldwide, we invite you to come together in Greece, from all around the world, to connect across and through our differences.
Over the last six years, Greece has been subject to a financial crisis. This crisis has brought radical changes in people's lives. A massive rise in unemployment, homelessness, and a slow dismantling of the healthcare and education systems, are some of the pragmatic consequences of the crisis.
The financial crisis has led to a political and social crisis. We have seen intensifying feelings of hopelessness, and a questioning of our deepest values. Animosity between different groups and ideologies has increased. At the same time, solidarity and new ways of forming community continue to arise.
This crisis does not only belong to Greece. It is part of a global crisis within our prevailing economic models and their underlying values. It reveals the impact of how we deal with ownership and the management of our planetary resources.
Humanity is suffering from economic disparities. A large part of the population worldwide lives in poverty. Many try to escape this poverty and become economic immigrants. Degradation of the environment, climate change, and ecological disasters create waves of environmental immigrants/refugees. Increasing numbers of conflicts and wars displace ever greater numbers of people, creating a refugee crisis.
The concept of nation states and borders is being questioned by some, while others emphasize the need to protect the collective national identity from change. We are witnessing polarization in all sectors of society across the globe and violent extremism on the rise.
We often deal with these issues as separate, even though they are interlinked. The connections stir up questions about our dominant values and how these define the way we perceive ourselves in relation to the world. They call for new ways to perceive and organize life on our planet, new ways that could bridge the divides we experience.
There is a growing belief that bridging these inner and outer divides requires a shift in consciousness. In our view, the first step towards this shift is an increased awareness of both our inner and outer diversity. This shift in consciousness would enable us to feel more connected to ourselves, to each other, and to our planet.
Diversity can create fear, which can escalate into social polarization if left unattended. Awareness has the potential to transform this fear. With awareness we aspire to create a space where all voices can be expressed, and heard in depth. We want to make space for the multiple dimensions of our experience, from facts, history, and background feelings, to our dreams and our sense of common ground.
Our aspiration is to create the world that we want to live in, starting with our interactions in the moment with each other.
Our dream is to inspire one another to work together, across the divides, for new solutions to the problems we face as humanity.
The Greek Organizing Team
September 2016 update
Issues around racial tensions, national identity, economic inequality and environmental disasters are dominant in the news around the world. The BRexit vote shook Europe during this past summer, along with the rise in xenophobia and Islamophobia, wars around the world are creating millions of displaced people and the refugee crisis seems to be escalating with thousands drowning in the Mediterranean sea trying to reach safety.
The Payment Policy of the Greek Organizing Team
We aspire to make it possible for everyone who wishes to participate in the Worldwork seminar, to be able to do so. Together we can make this possible, by paying the highest rate that we can each afford.
We acknowledge the systemic injustices that could contribute to a person's economic status. We also recognize the social differences and economic disparities between different regions, individual countries but also within countries themselves. Therefore we have instituted the following payment policy.
Given that the various tables and economic ranking systems available (by the UN, the World Bank, the IMF, etc) do not accurately represent the financial situation of large parts of the population, the countries mentioned in the rates are indicative, and are meant to help you find the rate that corresponds to your particular life circumstances.
Donor Rate

(1300 Euros) – If your current financial situation allows you to do so, we invite you to pay the donor rate. With this rate you contribute to social balance by cross-financing rate 2, rate 3 and scholarships.

Rate 1

(1100 Euros) – If you come from a country with a developed economy (for example, Western Europe, Japan, USA, etc.,) or irrespectively of your country of origin, you have an income that enables you to provide for yourself, we invite you to pay Rate 1.

Rate 2

(550 Euros) – If you come from a country with a developed economy that is currently weak (for example, Eastern or Southern Europe, Mexico, etc.) we invite you to pay Rate 2. If, irrespectively of your country of origin, you are faced with a difficult financial situation, we invite you to connect with us at ww2017greece@gmail.com to apply for Rate 2, describing your financial situation.

Rate 3

(350 Euros) – If due to very difficult financial situation you require further support to attend Worldwork we invite you to connect with us at ww2017greece@gmail.com to apply for Rate 3, describing your situation.

Workstudy

(deduction of 150 Euros) – Worldwork is a collective effort and we need help in running this seminar. In exchange for this help, there are a limited number of workstudy positions available. The workstudy is equivalent to a rate reduction of 150 Euros from the rate that you will pay. Workstudy tasks include videotaping, handling the microphones, registration, helping those with special needs, and other admin tasks. Your help may be needed before, during and after the seminar hours. Apply for workstudy by emailing us at ww2017greece@gmail.com, adding a brief statement of need and justification of your request. The deadline to apply is November 30, 2016. Workstudy positions will be awarded by December 22, 2016.

Scholarship

There is a limited number of scholarships available, for participants coming from countries that are extremely disadvantaged in the global economy (countries with an economy under development, such as, certain Sub Saharan African countries, certain Asian countries, certain Latin American countries, certain countries in the Pacific, etc) and who are in a difficult financial situation, or for participants from disenfranchised groups who are in difficult financial situation, or for participants who come from very disadvantaged financial situations irrespectively of the country of origin or the group they belong to. Apply for a scholarship by emailing us at ww2017greece@gmail.com, adding a brief statement of your need and justification of your request. Scholarships will be awarded as long as funds remain.