History
In 1989, Dr. Arnold Mindell and colleagues founded the Global Process Institute (GPI) to facilitate an international learning and research community with a special focus on conflict facilitation and transformation, psycho-social capacity building, and training of conflict facilitators. As of January 2014, GPI has merged with IAPOP, forming the IAPOP Worldwork Committee.
For more information on the IAPOP Worldwork Commitee see IAPOP Leadership Team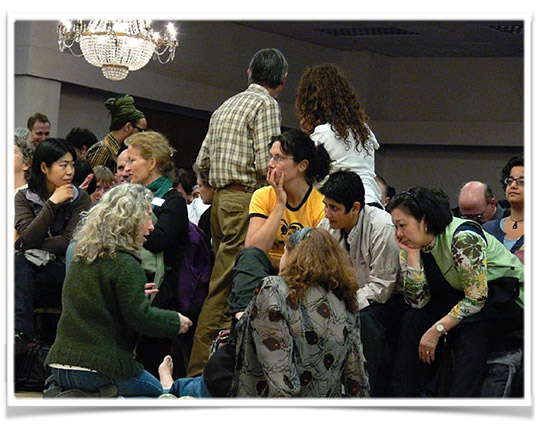 Previous Worldwork Seminars
One of GPI's activities was sponsoring a series of training and research seminars known as the Worldwork seminars. These have been held every one or two years or three years since 1991.
Former worldwork seminars include:
Worldwork 2017
Porto Heli, Greece
Deep Democracy in a World of Divides.
Shifting Consciousness in Politics,
Economics, Ecology and Relationships (flyer)

Worldwork 2014
Warsaw, Poland
Politics and Consciousness in the
Changing World. New Solutions:
From History to the Future (flyer)

Worldwork 2011
Denver, Colorado, USA
Tracking the Dreaming Landscape
Beyond the Continental Divide:
A Practice in Deep Democracy (flyer)
Worldwork 2008
London, UK
Doorways to Diversity: Seeking a
Home in the World (flyer)
Worldwork 2006
Sydney, Australia
The Listening Land. Creating
Communities. Where Histories Meet:
An International Forum Exploring
Belief Systems, Conflict and Human
Spirit (flyer)
Worldwork 2004
Newport, Oregon, USA
Alternatives to War: Modelling
the World We Dream of (flyer)
Worldwork 2002
Eretria, Greece
Building Community at the Crossroads (flyer)
Worldwork 1999
Washington, DC, USA
The Challenges of Deep Democracy (flyer)
Worldwork 1997
Mumbai, India
Deep Democracy, Social Change
and the Spirit (flyer)
Worldwork 1996
Seaside, Oregon, USA
Building Sustainable Community
in Times of Social Turbulence (flyer)
Worldwork 1994
Stupava, Slovakia
Europe in the Fire of Change (flyer)
Worldwork 1993
Waldport, Oregon, USA
World Work and the Psychology of Power (flyer)
Worldwork 1992
Stoos, Switzerland (flyer)
Worldwork 1991
Waldport, Oregon, USA
World Work and Conflict Resolution (flyer)