We thank Peter Amman, Nadir Noori, Nancy Papathanasiou, Boris Sopko, and Kiro Zabinska-Maclntyre for the photos!
Welcome to the website of the Worldwork Seminars organized by the International Association of Process Oriented Psychology (IAPOP).
Here you will find information on the upcoming Worldwork seminar and the previous Worldwork seminars, as well as information and resources on Worldwork as an application of process oriented psychology, also known as processwork.
Dear Worldwork Community,
We have some very unfortunate news with regard to Worldwork 2020. We have decided to cancel the Worldwork2020 Musqueam territory event due to the Corona Virus being declared uncontainable by the World Health Organization. 
As you may know, organizing Worldwork is a labor of love based on a vision for community, awareness and a making the world a friendlier place for more people and communities. We are saddened by this loss as well. We will miss having this time of learning and connecting with you. And we will miss the opportunity to work on the issues of the world with you. We know too that this dream will continue to live on in many of our other world and community efforts.
If you have already registered for the conference we will be in touch with you about refunding your payment. Accommodation reservations at UBC can be cancelled without penalty; please contact them at: reservations@housing.ubc.ca.
We are contemplating the possibility of an online event, and will be in touch with more information. 
Please let us know if you have any questions or concerns.
Sincerely,
The Worldwork Team
Email: ww2020bc@gmail.com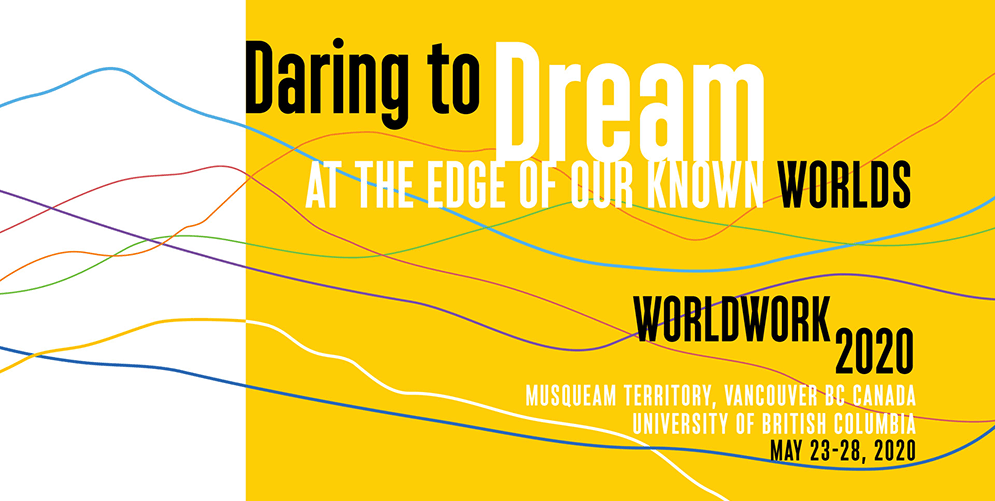 DATES
May 20-21, 2020: Drs Arnold and Amy Mindell Workshop: Worldwork Leadership Facilitator Training
May 21-22, 2020: Worldwork Staff Meeting
May 23-28, 2020: Worldwork 2020 Canada
May 29, 2020: Drs Max and Ellen Schupbach Workshop: Worldwork in Governments and Corporate Sector